A disconnected sales process where sales reps refer to prices and product codes from Microsoft Excel results in less accuracy and lost revenue. The quote generation becomes error-prone. Salesforce CPQ not only reduces the complexity of product configuration & pricing but makes the product and pricing data available in the quote. It also provides automation for a quicker quote approval process. Salesforce Billing (add-on) automates invoice creation and payment processing. It's especially useful in a subscription-based model.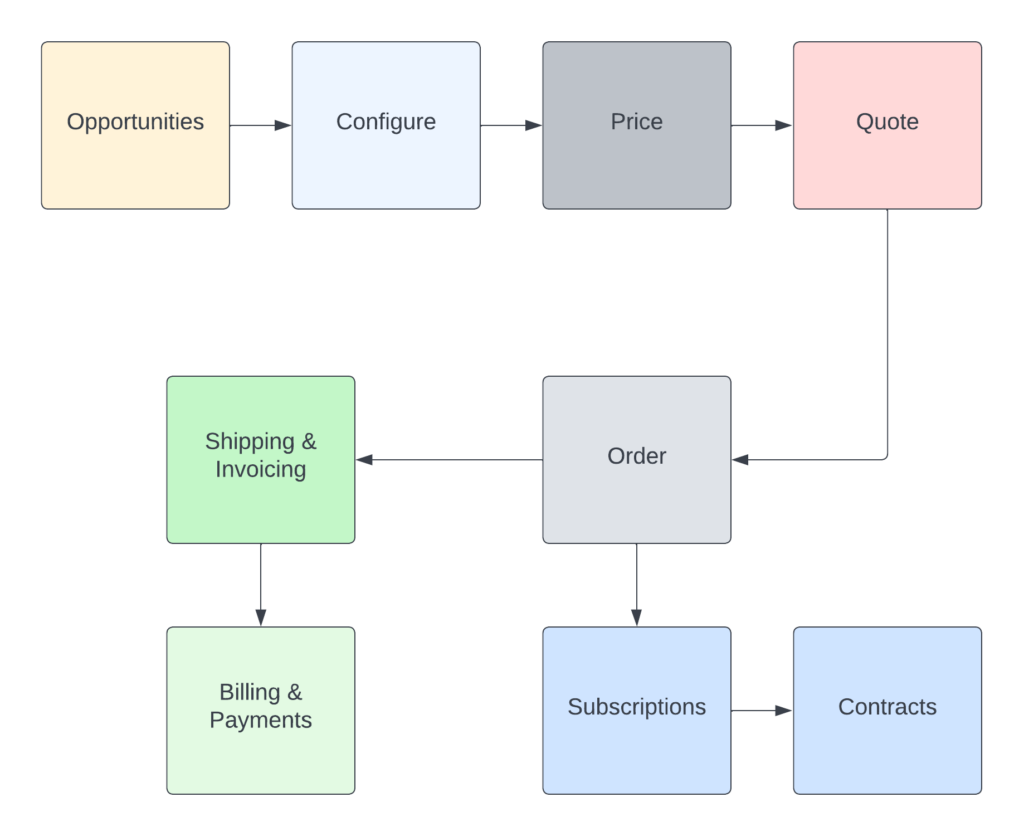 Configure
A bundle is a collection of related products meant to be sold together. It prevents non-compatible products from being sold together. Bundling allows for discounting of products. Get a 10% discount on a Gaming monitor on purchasing a gaming PC.
MacBook Air (M2 Chip) can be configured with (8/16/24 GB memory) whereas MacBook Pro 14-inch can be configured with (16/32 GB memory). These two configurations can be sold as two separate bundles.
Product Rules ensure that the customers are sold products adhering to the business rules. For instance, new customers may not buy the warranty extension product or remind the sales rep about an upsell opportunity when they add a specific product to the quote.
Price
Different types of pricing tools exist in CPQ. Using Contracted pricing, a particular customer pays $1000 for a laptop while everyone else pays $1275. The sales rep doesn't have to memorize the exceptions. In the Percent of total pricing, you can define the price of Shipping Insurance as an exact percentage of the equipment sold on the quote. In Block Pricing, the price is calculated using a flat price for a range of quantities. For example, a pack of 1–10 units costs $20, while a pack of 11–20 units costs $35. Sales reps can also use decreasing per-unit costs toward the end of each range as a selling incentive.
Quote
CPQ makes quote generation easy and powerful.
The Quote Line Editor (QLE) makes adding products easy. The prices, the validation rules, and the discounts are all reflected in the quote.
Approvals are built into the quotes. The standard approvals are built into the Sales Cloud license. Advanced Approvals is an add-on license through Salesforce and part of the CPQ+ license.
The customer can sign the quote electronically for a faster sales cycle.
Conclusion
CPQ Software handles the complexity of product configuration and pricing rules very well. It makes the quoting process less cumbersome and error-prone. Product bundling, product rules, and having different pricing tools available on the quote makes quote generation effective. Advanced/Standard approval mechanisms ensure the quote is approved before the Order generation. The customer can sign the quote electronically for a faster sales cycle. The Salesforce Billing (add-on) handles invoice generation, payment processing & revenue recognition.